Helping kids navigate remote learning, adjusting to new remote work, and virtual meetings has made for an interesting 2020. Zoom fatigue is a new and real thing. My guest, and friend Gina Cohen – Author of "Worried Willy, Thinks He'll Look Silly", wrote an adorable story about Wombat Willie who is filled with anxiety about how he will look in the "Zoom classroom", and something we can all relate to right now.
Gina has always had a passion for writing. She always knew she wanted to write a book, and while scrolling through the popular app Tik Tok she came across a video of a teacher that lit up when one of her students turned their camera on, and this sparked her idea for Worried Willie – using her love of rhymes to encourage young kids to feel less anxious when learning remotely.
Gina's love of writing dates as far back as the fifth grade where she coined the lyrics that would become her elementary school's first school song at assemblies for years. Her first job out of college she started in sales, advertisement, and writing for a local magazine. This launched her into a career as a viral lifestyle blogger with work published in The Washington Post, MSN, Huffington Post, Woman's Day and more! One of her most popular posts she wrote was on the Scary Mommy blog post – Elf on The Shelf, Not going to happen, a humorous look at boycotting the popular mischievous Elf at the holidays.
Gina's writing goal is to make people laugh, and give them something that is relatable – worried Willie is certainly both! Her first book in the Fur Sure Friends series, is a rhythmic text, darling illustrations, and a great read-aloud book for story time, classrooms, and early readers. Currently an E-book on Amazon she hopes to continue similar fur friendly books that are relatable to every day life. You can find a small excerpt below:
Willie the Wombat is ready for school
Will learning remotely be scary or cool?
His teacher Miss Fink pops up on his screen
But he's not so sure 'bout this whole webcam thing.
What if the camera makes him look weird?
What if his fuzzy face looks like a beard?
Willie is shy … what will he do?
Come and find out, he'd love to meet you!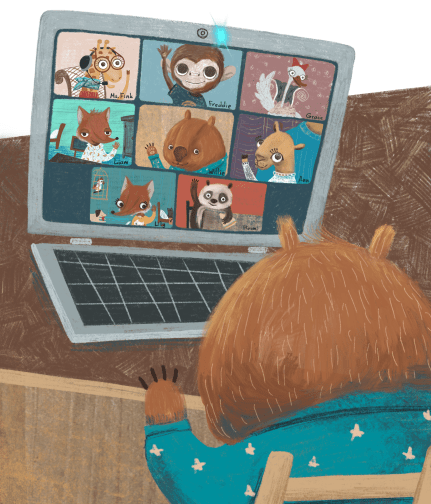 To purchase Gina's E-book you can visit Amazon, or her website. If you are a teacher, or know a teacher Gina's is donating a copy of her book for free! Follow Gina's Instagram, and Facebook accounts for upcoming release dates of a paperback copy, and her new publications.
Born and raised in Washington and currently living in Issaquah check out some of Gina's favorite go to spots in the 425 area:
Lucky You – Located in Gillman Village in Issaquah, step into a Winter wonderland and pick up some unique holiday gifts, home decor, accessories, and more.
Black Duck Cask And Bottle – Issaquah Gillman Village, Black Duck offers house made craft cocktails, high quality craft beer and amazing food to match.
Cafe Q – Issaquah cafe with delicious coffee options, exclusive in-house made desserts, and all-day breakfast.
Deru Market– Located in Kirkland Deru is a neighborhood eatery/bakery, offering local, organic, seasonal food from scratch daily.
Cheers!
Nicole
Podcast: Play in new window | Download
Subscribe: RSS