Have you ever watched those picnic scenes in a movie and thought – that would be fun? And then realized recreating it isn't so easy? Well, a movie perfect, insta worth picnic is just a phone call away thanks to Christine Brown, owner of Rainy Day Picnics. Rain or shine Christine puts together an amazing outdoor picnic experience providing everything you need for a special day, set in a clear tent to keep you warm, and out of the PNW elements.
What started as an idea to combine her creativity, hospitality, and passion for bringing people together turned into something larger than she could have ever imagined! Christine works with some of the best vendors in the area to put together a special picnic in some of the most beautiful settings. They are perfect for bachelorette parties, birthdays, anniversary celebrations, family fun nights, or really just about any reason you can come up with.
Christine has special picnic packages for everyone, and every occasion! Their "Classic Picnic" offers plush pillows, blankets, in a setting of your choice, or one of their private locations. The "Pamper Me Picnic" is perfect for anniversaries, or date night as you sit back, relax, and let RDP and Spa Vibes Concierge transform you backyard into a private peaceful retreat.
As Rainy Day Picnic grew, Christine has partnered with some pretty amazing vendors around the area! Spend the day up in wine country in Woodinville at Matthews Winery and sample some of their amazing wines, while enjoying your private picnic, and food boards. Explore Lake Washington by boat in Kirkland as Christine and her team set up a floating picnic paradise on Duffy Electric Boats. During the holidays, chop down your Christmas tree, then relax in your warm, and cozy picnic at Crystal Creek Tree Farm, in Maple Valley.
All of Rainy Day Picnic setups come with your tent, and all the cozy plush pillows you could ask for. Christine makes it super easy to have add-ons to your experience by providing food boards, or special menu items from a local chef. Christine will take care of everything your heart desires for a special occasion or you can always bring your own food and drinks as well. For a full list of RDP special add-ons visit her website.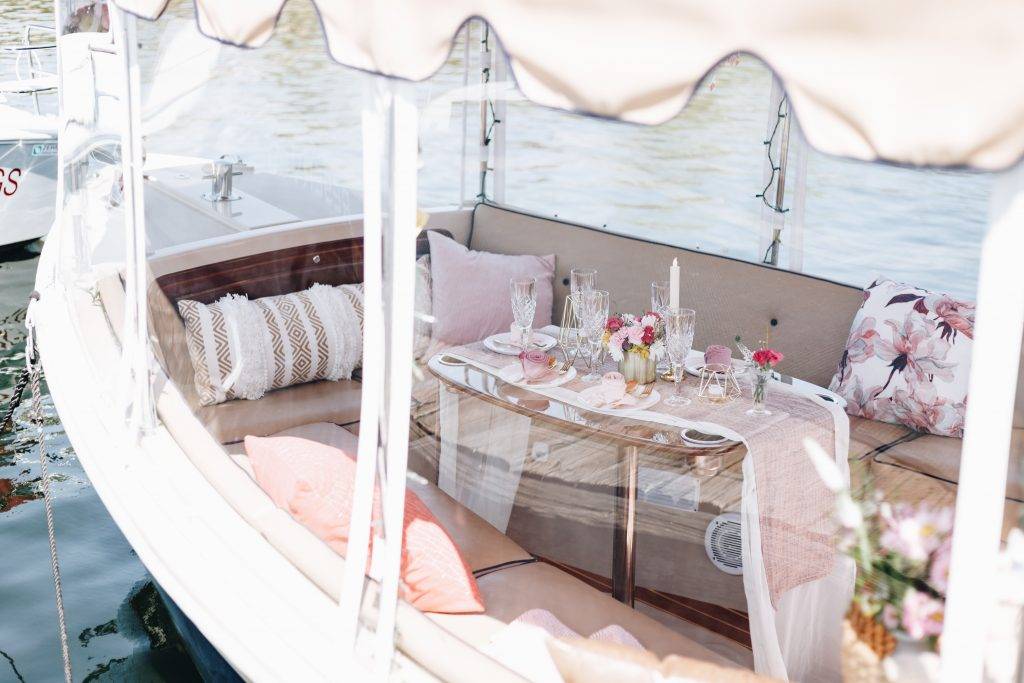 Whether you are looking for a super fun way to celebrate with friends, in need of a special way for a wedding proposal, or just want a fun way to enjoy these warm Summer nights and go 'glamping' in your backyard Christine has you covered! If you would like a special 'themed' picnic Christine will work with you on all your needs and requests. To capture your special occasion ask Christine about her photographer package too! Follow RDP on Facebook, and Instagram for upcoming events and new locations.
Cheers!
Nicole
Podcast: Play in new window | Download
Subscribe: RSS