If you're looking for a special gift this holiday season, my guest today Clare Hynes, owner of Soili & Sun – accessories with spirit and soul, has the perfect gift for you. Anytime I can find a unique gift either for myself or for someone else that has a special meaning behind it I'm all in. Soli & Sun is an independent artisanal accessory line designing some of the most beautiful hand crafted jewelry, and handbags – all with a beautiful story to go along with it.
Partnering with a group of female artisans in the Philippines, each Soli & Sun creation is hand-crafted by Clare and her fellow female artisans  "using traditional techniques that have been passed down from generation to generation".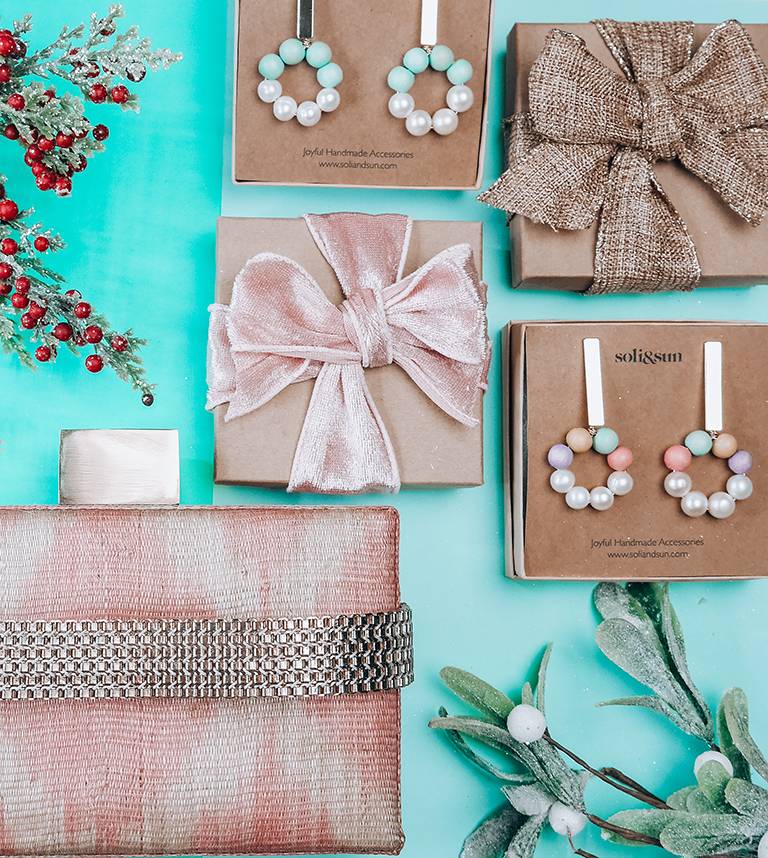 Clare started designing jewelry as a way to de-stress from a busy career in the U.K, and staying home on maternity leave with her then newborn son. Making the decision to move to China with her family Clare found herself with some time on her hands so she continued her passion of creating jewelry, and sold them through local pop up shops, and markets – allowing her to get feedback, interact with her customer's and learn the culture.
It was the next move to the Philippines that paved the course of her accessory journey. While  living in Manila, Clare quickly realized the clear disparity between the rich and poor. She had an overwhelming feeling to want to help the community. Taking her small design business she worked with a social enterprise GKonomics that connected her with a group of women living in an underprivileged community in Tacloban, where she taught them her techniques of making jewelry, and then her new line of hand woven handbags, using material from the area.
Since all of the pieces are hand crafted there are no machines involved, allowing the T'boli tribe to work on the patterns from their home. Partnering with the women this allowed them a new source of sustainable income. Clare was inspired to design handbags by exploring the culture, and  seeing materials used for their everyday living.
Her signature rattan sunburst pattern used on a number of her bags, is a striking weave known as Solihiya – typically used in furniture to let the air move freely through and provide comfort in the tropical heat. This is where the inspiration for the name Soli & Sun comes from, "creating a further connection to the wonderful people and places of the Philippines".
For all of Clare's beautiful designs check out her shop on her website. Looking for some extra special stocking fillers shop up to December 16th for Christmas delivery, and visit her gift idea page – with complimentary free wrapping! If you would like more information on her female artisans check out their story on her page. Follow Clare's Instagram page for more new designs, and sales.
Cheers!
Nicole
Podcast: Play in new window | Download
Subscribe: RSS