Today we kicked off the holidays chatting with Cleo Raulerson from Bellevue Bontanical Garden d'Lights. This has always been a special tradition with our family visiting the beautiful garden over the holidays.
Bellevue Botanical Garden is an urban refuge encompassing 53 acres of cultivated gardens, restored wetlands, and natural wetlands. In an effort to keep the garden visitors coming year-round they opened Garden d'Lights, celebrating their 24th year. Garden d'Lights is a 3/4 mile path featuring over half a million sparkling lights formed into the whimsical shapes of plants, flowers, birds, animals, and cascading waterfalls set amid the natural beauty of the Bellevue Botanical Garden.
Cleo started volunteering at the Bontanical Gardens when she retired and gravitated to their yearly Garden d'Lights event. She co chairs the event, including managing the 125-150 volunteers from the design team, build team, and set up crew. It truly takes a village to create this magical place, and get ready for their over 90,000 visitors!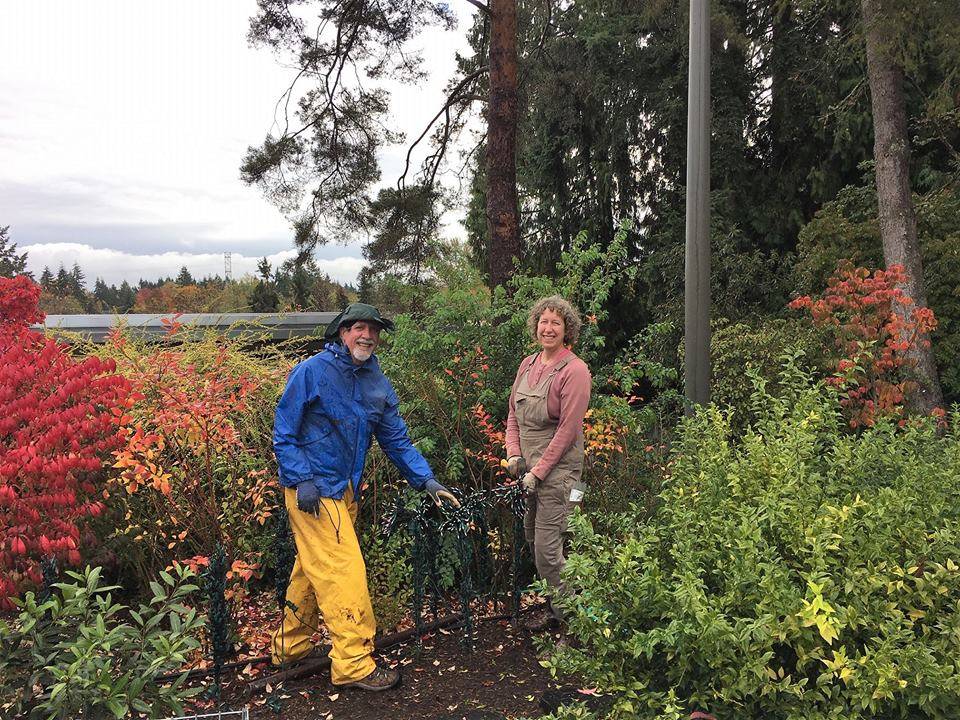 Starting in March the Garden d'Lights design team comes up with a new 'critter' and flowers to introduce into the garden. Each year they give kids the opportunity to help name their new critter online.This year it's a beautiful lady bug that took 60 hours to set up and over 800 lights!
They truly have made it fun for the whole family, and multi generations. Enjoy live music, and take their treasure hunt challenge searching for their glorious, open winged heron, and the new bright orange dahlia's, and fox glove flowers. You can warm up in their Gingerbread house with hot chocolate. A trip to the garden's wouldn't be complete without a visit to the Trillium Store, filled with garden-inspired and seasonal gifts.
The garden's open every year from the first Saturday after Thanksgiving through December 30th. Admission is only $5.00, for 11 and older and all the proceeds goes towards a donation to the gardens. What an affordable night for the family! Each night the park is open from 4:30 pm – 9:00 pm with lights out at 9:30. They also make it super easy, and recommend to buy your tickets online. They offer FREE nights from November 24, 25, 26, 27, 28 & 29th.
If you would like more information about visiting the Garden d'Lights or to become a volunteer visit their website. Follow them on Facebook and get updated events happening at the garden's throughout the year. Can't wait to go this year!
Cheers!
Nicole
Podcast: Play in new window | Download
Subscribe: RSS