Today on The 425 Show – my Assistant Jen Ames stepped up as my guest, sharing what she loves about the area. Jen is always at The 425 Show behind the scenes taking care of details, coordinating the guests, taking  pictures, and putting together our follow up posts.
A long time resident of Maple Valley, Jen typically likes to get out of her neck of the woods and explore the beautiful Northwest, from hikes on The Sunrise Rim Trail on Mt. Rainier, Twin Falls in Northbend, wine tasting in Woodinville, and weekend getaways to the Saun Juan Islands – she's busy!
Along her outings she's been exploring all the new breweries that have been popping up. Her husband, being a beer lover, Jen jumped on the brewery bandwagon and discovered a new liking for cider. Some of her favorite stops have been the booming brewing companies in Ballard, and close to home in Snoqualmie ridge area, No Boat Brewing Company. At the top of the ridge, No Boat offers daily food trucks, and seasonal events like the Taylor Shellfish Oyster pop up she recently attended. The best part is it's kid and dog friendly! Another favorite that just opened in Enumclaw is Headworks, run by a local family that transformed the iconic town's laundromat into a beautiful gathering space, offering their own beers made onsite.
Raised in a 'foodie' household, and a passion for all things food related, Jen and her husband love finding new places to eat. Issaquah, offers some of their favorite go to spots. Levitate Gastro Pub on Front street is a must to try, with unique craft cocktails, and modern American, scratch made menu. Just down the street in Gillman Village, a more casual atmosphere is Black Duck Cask And Bottle. With ever-changing beer taps, their own infused liquors, and amazing pizza – it's a great spot for date night or meeting friends. While entertaining out of town guests a favorite go to spot are the Snoqualmie Falls for the beautiful scenery, and an appetizer up at The Attic in the Salish Lodge.
If you're looking to get out of the 425 area, and take a drive up to Mt. Rainier, or are headed back from skiing at Crystal Mountain, a must stop is the charming town of Enumclaw. Jen and her husband frequent Enumclaw often – not just for the brewery but for their surprisingly, unique, and awesome restaurants! The Rainier Bar and Grill a 1904 historical building has a wide menu selection of steaks, burgers, and hands down the best clams and mussels you'll ever taste. The Mint, offers a unique menu with locally sourced farm-fresh products, and craft cocktails in a fun, family friendly atmosphere. Stop in at the locally owned, and adorable restaurant Griffin & Wells, a farm to table menu, with a gourmet touch, and daily quiche items. Be sure to let the owner know you're a first timer and she'll give you a sample of her homemade Buttermilk ice cream!
Whether you're looking for a fun date night, meeting some friends out, or have some out of town guests to entertain Jen's spots are a must to try!
In my real estate update, if you're putting your house on the market I shared six tips that are sure to help your home stand out, and sell quicker. Check out the tips below, and f you're looking at buying or selling, or have a real estate question please contact me.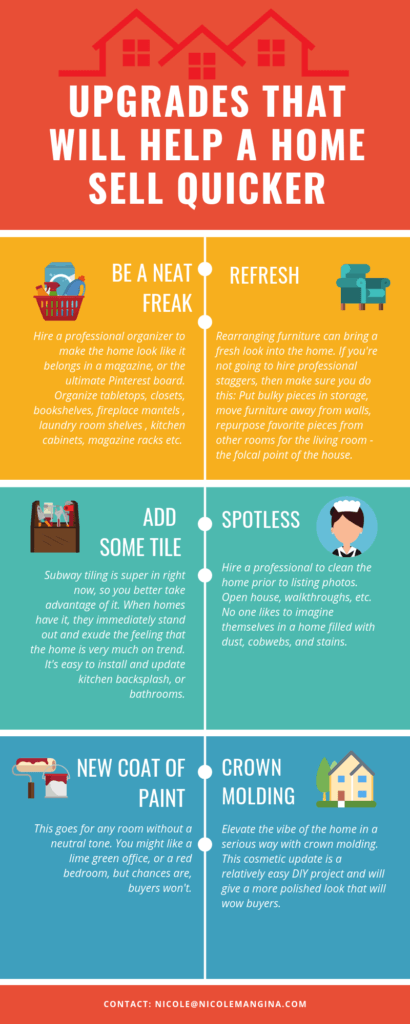 Cheers!
Nicole
Podcast: Play in new window | Download
Subscribe: RSS