When COVID hit last year it presented some big challenges – including a steep rise in the number of people experiencing food insecurity. Katherine Kehril, founder of Community Loaves jumped into action and created an amazing network of volunteer bakers. Twice a month they bake nutritious, homemade honey oat sandwich breads and donate them to local food pantries such as Hopelink across the Eastside, and even into Oregon.
April 27th will mark the one year anniversary of Community Loaves, when Katherine donated 19 loaves of bread. The need for food was much larger than expected so she started adding more bread baking volunteers to her network and within one year they have hundreds of bakers and have donated over 20,800 loaves of bread – starting a 'bread movement'. Starting the delivery from her garage the bread movement took off so quickly it was featured on The Today Show–  "We're Breader Together"!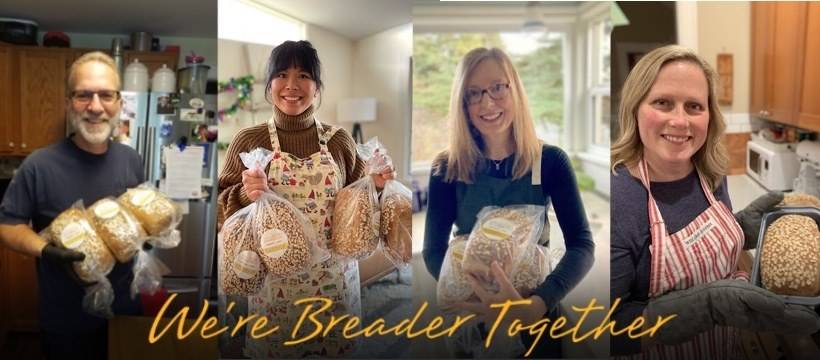 Community Loaves offers not only freshly baked bread delivered to their food pantries, it's given many at home a sense of purpose and a way to connect.
For those that would like to join, Community Loaves provides the recipe and the ingredients at a discounted cost. Bread is baked on the first and third Saturday of the month and then delivered to geographic hubs so that they can be delivered to local food banks on Sunday. Katherine encourages her bakers to make 4 loaves, donate 3 and keep one to enjoy at home!
How do you get started as a bread baker? Community Loaves makes it super easy to get on the bread baking train by following these steps below:
Head to Community Loaves website
Attend a Zoom call on how the program works, and if it's a right fit for you
Download the recipe
Start baking
Deliver loaves
If bread baking isn't your thing there are several ways you can help in your community. You can start your own hub – Help expand their reach by starting a hub in your own community. Donate – Each loaf of bread makes a difference and your financial contributions do too. For a full list of ways to donate check out their support page. Follow their Facebook page, and Instagram account on more ways to help the community.
Cheers!
Nicole
Podcast: Play in new window | Download
Subscribe: RSS