Kelly McNelis – best selling author of Your Messy Brilliance and founder of Women For One joined us on The 425 Show today.
Founded in 2011 and serving more than 630,000 women over 60 countries, Kelly is committed to helping women embrace their "perfect imperfections", by creating a platform for women to connect with themselves and others through inspirational online course, live events, and weekend retreats.
It started as a website blog with Kelly writing about her own "messy" real life experiences, from being a single Mom at the time, and the reality of the struggles of managing life. Through responses from other women she found other's were going through similar situations, so she created an outlet to share other women's inspirational stories on her website. The word got out, and her platform quickly snowballed into the need to take her story on the road through her "Truthteller Tour".
The Truthteller Tour, similar to community- centered events like a "TEDx" is an empowering event in which women celebrate and give voice to women's experiences: stories of triumph, devastating loss, and everything in between. Women have a safe space to share their stories, to laugh, cry and ransform together. For a full list of Kelly's upcoming tour you can visit her Facebook page.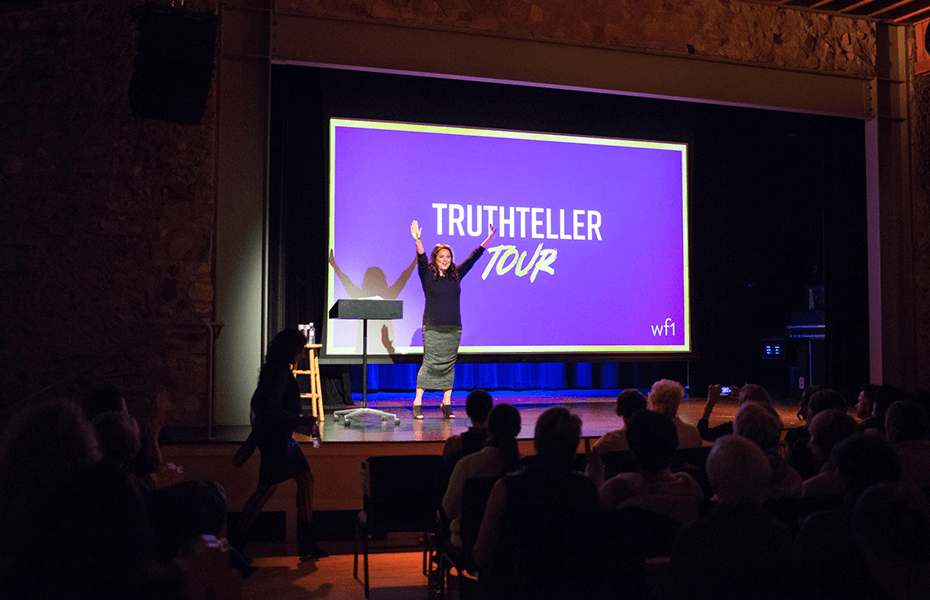 Along with Kelly's online courses, and events she wrote her first book, "Your Messy Brilliance" – 7 Tools for the Perfectly Imperfect Woman. There is no one-size fits all solution to your problems, or a personal-development program that will get you to 'perfection'. Your Messy Brilliance" offers an engaging, customizable roadmap to the authentic you. Through a combination of personal experiences, and relatable stories from everyday women, Kelly guides you through 7 helpful tools, of finding your own messy brilliance. Showing you how your life experiences shaped who you are today.
You can purchase Kelly's book on your own, or sign up for her Your Messy Brilliance 30 day online course. A 30 day self-care course designed to help your transformation of feeling good in your own skin, and embrace your imperfections. For her more advanced courses, check out her "Hard Conversations Toolkit", a guide for those tricky 'can we talk'? moments. For a full list of courses visit her website.
If you are someone you know has an inspirational story you would like to share you can start by sharing in on Kelly's website. If you are interested in attending one of her events, or courses, you can sign up online. Check out her fun list of freebies too! Receive monthly 'messy notes', from your brilliantly messy self.
Cheers!
Nicole
Podcast: Play in new window | Download
Subscribe: RSS