Sheila Storrer of Sheila Storrer Coaching, joined us on The 425 Show today. Sheila is devoted to helping women create rich, full lives. Whether you are looking to explore a career change, transitioning to a new stage in life or strengthen personal or professional relationships Sheila can help set goals and design a plan that works for you.
Specializing in helping Professionals and stay at home Mom's, she helps you live your best life. Sheila offers one on one coaching and partners with Sara Olin to offer monthly workshops, and retreats to help you get back to your truest self in the company of powerful like-minded women.

With Sheila's background as a social worker she offers a unique mix of coaching with a dash of therapy. Her experience in both makes her coaching style unique, focusing on your blind spots, making you accountable and comping up with solutions to move forward.
As a Mother of two teenagers Sheila found herself looking for support in balancing her career and the struggles of her changing teens. She found other parents looking for the same connection so she developed a Teen Hack Session, helping parents connect with their teens, through a Positive Discipline approach that is tailored for your situation. She offers a full Teen Hack package, or a 60-minute consult session to dive deep and come up with a quick fix to your challenges. The best part is all of her sessions are over Skype of Zoom! Making it easy to carve out time in your busy day.
If you're looking to make a change in your life, build stronger parent-child relationship, or develop powerful communication skills contact Sheila, for a complimentary first-time phone session. You can find a full list of her upcoming events on her Facebook page, including her upcoming group workshop "Let's Talk Teens", June 12th at Arete and Kirkland. Join her Happy Parent Happy Teen Facebook group and share your challenges, and wins stories connecting with other parents.
Real Estate Update:
With the market changing, it was the perfect time to give an update on what's happening on the Eastside. Here are some good things to know:
Inventory is up. This time last year we had a 0.8 month supply of inventory, we currently have a 1.2 month supply. A balanced market is considered 4-6 months of supply. The good news with more inventory is that it's bringing buyers back into the market because they feel like they have choices. When inventory gets to low it can backfire in that buyers opt out of the market, which hurts sellers long term.
The average sales price is down slightly. Essentially it's the same as last year. A few big sales can move the needle one way or another, but that is not indicative of an overall market move. We have been experiencing shorter market times and multiple offers, which indicate buyer confidence is high.
Roughly 1/4 of the homes are selling above the list price. There are definitely certain price ranges and areas that this is happen in more than others.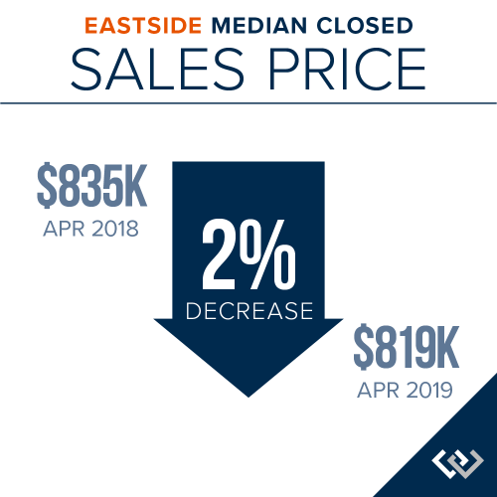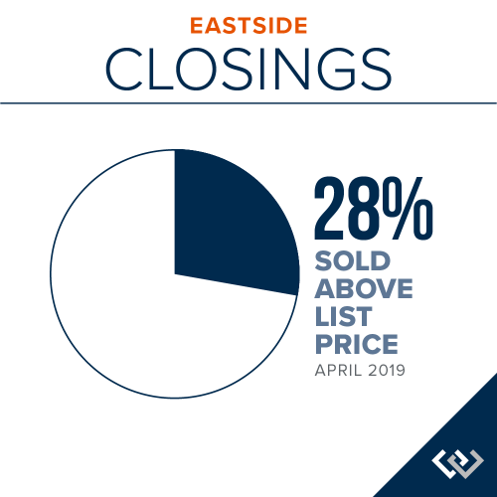 If you have thought about buying or selling a property and would like to know more about your specific market, I invite you to send me an email at nicole@nicolemangina.com and we can schedule a time to chat.
Cheers!
Nicole
Podcast: Play in new window | Download
Subscribe: RSS